Citrus Bliss Body Butter Recipe
on

3 Aug, 2018
In Activities and Crafts
Homemade body butters are a fantastic way to create uniquely scented spa type products without breaking the bank. While the initial purchase can seem costly, you only use a small amount of each ingredient for this body butter recipe. Essential oils especially can be reused in so many ways they are invaluable- from homemade cleaners to soaps to body scrubs and body butters. This particular body butter recipe is a delicious, invigorating, and brightly scented version of one of my favorite pampering treats.  This Citrus Bliss Body Butter will leave your skin soft and moisturized all day.
Citrus Bliss Body Butter Recipe Makes A Great DIY Gift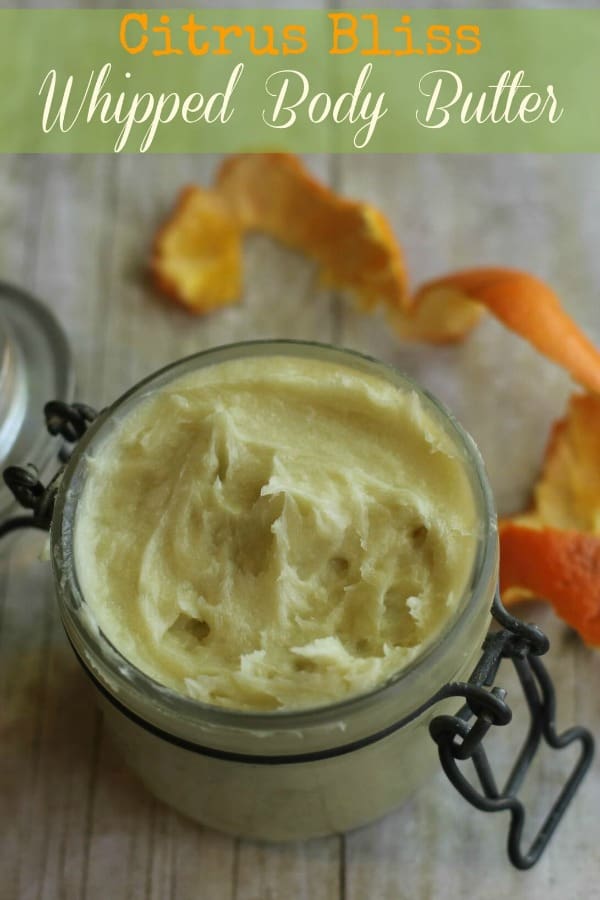 This body butter is easy to make and if you put it in a cute mason jar or canister, it makes a great DIY gift for all sorts of occasions.  Just tie it with a cute ribbon and add a label.
Citrus Bliss Body Butter Ingredients:
1 ¼ cup Shea butter
⅓ cup coconut oil
2 tsp. vitamin E oil
10 drops orange essential oil
5 drops grapefruit essential oil
My favorite essential oils are Young Living- here is my distributor link. You can get all of these body butter ingredients at health food stores, pharmacies, or order on Amazon. Affiliate links below:
Body Butter Ingredients
100% Pure Unrefined Raw SHEA BUTTER
Skin Beauty Es…
$7.99
Nature's Bounty E Oil 30,000IU, 2.5 Ounce
Nature's Bounty
$7.50
NOW Foods Pure Coconut Oil , 7 oz
Now Foods
$8.49
doTERRA Wild Orange 15 ml
doTERRA
$11.55
Heat coconut oil and shea butter in a pyrex glass bowl, stirring frequently just until melted.
Whisk together well.
Place in refrigerator for 30 minutes or until it starts to firm up.
Place mixture in bowl of stand mixer or use hand mixer. This makes it a whipped body butter and gives it a light smooth texture.
Add essential oils and vitamin E oil.
Beat on high for 5 minutes until light and fluffy.
Store in a glass container. (Citrus essential oils will eat at plastic.)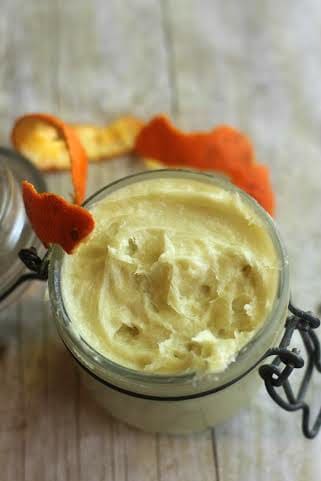 Body butter will soften if the room it is stored in gets very warm. This can be prevented or remedied by setting the container of body butter in the refrigerator. During the summer months I keep this homemade body butter in the fridge- it feels so good coming in from the heat!
Have fun making the body butter! I hope you enjoy this easy DIY body butter recipe and that you find the citrus essential oils to be as refreshing as I do. Have you tried homemade body butter before? Do you think you will give this DIY body butter recipe a try?